Atlantis Lego.
Atlantis is a TV series. Lego I think released Atlantis, in around  2011.
It is about a team of people, underwater explorers that found a sunken city called Atlantis.
Lego No 7984.  Genuine- Deep Sea Raider.
When adding information about this lego. I found two different pictures and information on the boxes. Lego has release Atlantis, Information on the boxes are different. One is ( Genuine) earlier than the other. Check it out below.

The first Atlantis lego. Priced at $49.90 Postage extra.          In Stock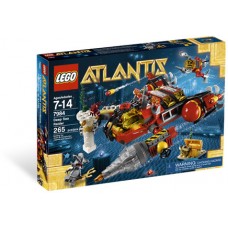 This is the Lego new Atlantis No 7984, check out the writing on the boxes . No stock.

About .
Drill a Path to Riches!
Recruited to dig and drill through the dangerous ruins they are trying to get to the treasure. Open the back compartment and release the mini sub, for tight squeezes. Can he outwit the angry hammerhead guardian to retrieve the treasure and legendary body armor ?
---
Atlantis Lego 8057.
LEGO Atlantis Wreck Raider (8057)
Set includes 2 minifigures: 1 heroic diver and 1 mutant Shark Warrior with trident
Lego 8057. Price $14.95. + Postage.  In Stock
---
Lego 8060  Atlantic. Typhoon Turbo Sub.
Lego Atlantic 8060. Price $39.95 = Postage. In Stock.
---
Lego Atlantis No 8077. Atlantis Exploration.
Atlantis lego  Also Available in stock.
8061= $59.95+ postage
8075=$89.95 + postage
8078=$159.95 + postage
Love your Lego and are you a collector. Get your Atlantis Lego now before the first release of Atlantis is sold out.
For more Lego visit Online store. Lego
If you do not like buying online let me do it for you.
Have a great day.
Wendy